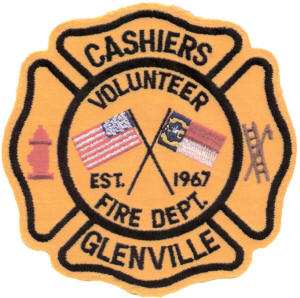 Home
If you have an emergency, please call 911.
Visit the departments facebook page [Cashiers-Fire-Dept]
Emergency Preparedness: Help protect your family and property by implementing some or all of the following.

House Numbers: Make sure the address on your home is clearly visible from the street. Vital minutes can be wasted trying to locate homes.

Street Sign: Street signs are present, free from obstruction and easily readable.

Roadways: Roads are well maintained, clear of obstructions and accessible to emergency apparatus.

Alarms: Have a remotely monitored fire alarm installed in your home

Detectors: Have working smoke and carbon monoxide detectors installed in your home.

Escape Plan: Implement and rehearse an escape plan.

Sprinklers: Consider installing home sprinkler systems.

Hydrants: If you live in a community with a water system, Talk to the water system authorities about installing presssurized hydrants.
For more information consult the internet or follow one of the links above.
---
Insurance Polices: Several pages provide information helpful in writing policies.
FAQ: Frequently Asked Questions
General Information: Information of the department, water supply and mutual aid
Apparatus: Pump and water capacities of department equipment
Stations: Station street address and coordinates
Fire District: Distric boundries
Department Rating: North Carolina Department of Insurance Office of State Fire Marshal rating for the department.
---